How To Pick A QUALITY Protein Powder
To be considered a great whey protein the product MUST list whey protein isolate or hydrolyzed whey protein isolate as the very first ingredient. Whey protein isolates are the purest form of protein you can get. "Hydrolyzed whey protein isolate" means that that high-quality whey has been pre-digested into smaller protein fragments for even faster digestion than regular whey isolate. Whey protein concentrate, on the other hand, goes through less filtering, which means fewer of the natural carbohydrates found in milk are removed. The result is a whey product that is much lower in protein content. Although most whey protein concentrates are somewhere between 70-80% protein, some can be less than 35% protein. This is why most companies make a big deal about their whey protein isolate powders. (This is also why isolates and hydrolysates generally cost more.)
But to really know if a whey protein powder is top notch, you'll need to do some math. Take the grams of protein per serving listed on the supplement facts panel and divide it by the serving size (in grams). This will give you the percentage of protein in each serving. To be considered a great whey protein powder, the percent protein per serving (or scoop) should be 80% or greater. For example, if a whey protein powder provides 25 grams of protein per 28-gram scoop, that protein powder is about 90% protein and is a great whey protein for the money.
I totally found all these awesome sounding protein shake recipes and they need to be seen. Just make sure you watch the calories, sugar, fat, etc. Some are higher calories than others. Mix and match, substitute, or invent your own.
1. Coconut Twisted Julius
1 cup unsweetened Coconut Milk
2 scoops Vanilla Protein
2 tbsp Orange Juice Concentrate
1/2 frozen Banana
2. Muscular Mango
1 cup sugar-free Apple Juice
1/2 cup 0% Greek Yogurt
1 tbsp Orange Juice Concentrate
1/2 cup frozen Mango
1/2 cup frozen Pineapple
2 scoops Vanilla Protein
3. Almond Joy
1 cup unsweetened Almond Milk
2 scoops Chocolate Protein
2 tbsp Almond Butter
2 tbsp Dark Chocolate Chips
1/4 cup unsweetened shredded Coconut
4. Caramel Coffee
1 cup unsweetened Almond Milk
2 scoops Chocolate Protein
1 tsp instant Coffee
1 tsp sugar-free Caramel Creamer
5. The Fuzzy Protein
1/2 cup frozen Peaches
1 cup water or sugar-free Apple Juice
1/2 cup 0% Greek Yogurt
2 scoops Vanilla Protein
6. Dark Chocolate Banana
1 cup unsweetened Almond Milk
2 scoops Chocolate Protein
1 tsp Cinnamon
1 tbsp Dark Chocolate Chips
1/2 frozen Banana
7. Cheesecake Protein
1 cup water or unsweetened Almond Milk
1 oz fat-free Cream Cheese
2 scoops Vanilla Protein
1/4 cup crushed Graham Crackers
8. The "Rich"
2 scoops Chocolate Protein
10 Ice Cubes
12 oz fat free Milk
2 tbsp fat free Vanilla Yogurt
1 tbsp natural Peanut Butter
2 tbsp Hazelnut Coffee
1/8 cup Caramel Ice Cream Topping
9. Chocolate Peanut Butter
2 scoops Chocolate Protein
2 tbsp Whipping Cream (heavy cream, not cream out of a can)
1 tbsp Peanut Butter
12 oz Water
1 tbsp Flax Meal
4-6 Ice Cubes
10. Fibrous Fruit
1 cup nonfat Milk or Apple Juice
1/2 fresh Banana
3-4 fresh or frozen Strawberries or 1/3 cup Blueberries or Peaches
1 tsp Wheat Germ or Bran
1-3 tbsp Protein Powder made from Milk and Egg
A few Ice Cubes if fruit isn't frozen
11. Snickers Mocha
1 scoop Protein Powder
1/2 cup cold Coffee
1/2 cup skim or unsweetened Almond Milk
1 tsp drops of sugar-free Caramel Creamer
1/4-1/2 packet of sugar-free Chocolate Carnation Instant Breakfast
3 Ice Cubes
1 tsp Butternut flavoring extract
12. Sweet Strawberry
2-3 scoops Vanilla Protein
8 fluid oz Water
1 fat-free Strawberry Yogurt or Greek Yogurt
1/2 cup frozen Strawberries
1 tsp Flaxseed Oil
FROM BODYBUILDING.COM
Strawberry protein pancake hahahhaha
Protein Powder Banana Bread
Just like the zucchini bread
Ingredients
3 egg whites or 6 tablespoons of egg beaters
1 teaspoon vanilla
1 teaspoon baking power
1/3 cup oatmeal
Sprinkle of cinnamon
1 scoop vanilla protein powder
1 ripe banana, mashed
Optional - 2-3 packets of truvia or stevia sweetener
Optional - chocolate chips
Preheat oven to 350 degrees. Spray your individual baking tin with nonstick spray. Mix all your ingredients together and poor into sprayed pan.
Bake for about 20-30 minutes or until tooth pick comes out clean when inserted.
This was so delicious. I am happy I tried it for breakfast. I used less oatmeal then the zucchini because I'm really not supposed to be eating oatmeal on a paleo diet. But it's healthy! & delicious. I want to eat like ten more!
About 365 calories a loaf (the individual 5 x 3 x 2 pans)
Homemade peanut butter cup. Recipe under recipes on my page. So. Yummy.
How To Maximize Your Protein Results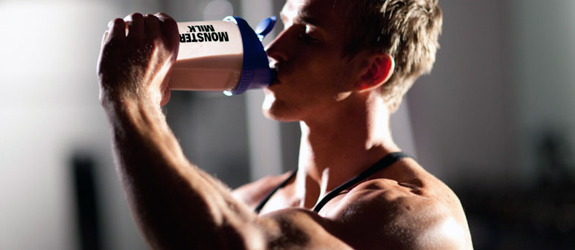 The main variables to maximize protein powder results are the types of protein, amount of protein and protein timing. Protein supplements provide an efficient way to maintain your protein intake throughout the day when you're trying to gain muscle — but they aren't a substitute for a healthy diet of regular foods. Research on protein powder results often focuses on muscle growth, and bodybuilders follow regimes of protein timing and varying their protein sources to maximize results.

Types Of Protein:
Whey isolate is whey protein, a byproduct from cheese-making, with the fat and lactose removed. Whey concentrate is higher in fat, lactose and carbohydrates than whey isolate. Casein is a slower-digesting protein. Whey and casein come from milk. Protein from whole eggs and whey protein are the proteins used most efficiently by the body, according to the American Council on Exercise's overview of the 2010 symposium, "The Latest Scoop: Current Supplement Research." Whole egg or egg white protein powder — also calledalbumen — is safe for people who need to avoid lactose or gluten and supports muscle growth. Plant-source proteins have a lower bioavailability than animal proteins, but can still help you achieve results. Pea protein is a quality protein source that's lactose-free and gluten-free.
Protein Timing:
Protein timing refers to when you consume protein to maximize the benefits for building and maintaining muscle. For building muscle, key times to consume protein are when you first wake up, to replenish your stores after fasting during sleep; before your workout; post-exercise for recovery; and before bed. Carrying along a protein shake in an insulated bottle gives you protein when you're on the go, so you never risk missing a meal. Because casein protein powder clots in the stomach and absorbs slowly, taking it at bedtime can help to prevent muscle breakdown, a process called catabolism that occurs when the body's needs are higher than the available fuel.
Protein Powder Amounts:
The most protein a strength-trained athlete can use is 2 grams per kilogram of body weight, but athletes may overestimate their protein needs, according to researchers from St. Louis University who published their results in the "Journal of the International Society of Sports Nutrition." Bodybuilders generally consume 1 to 1.5 grams of protein per kilogram, compared to the recommended daily intake of 0.08 grams of protein for adults, according to the Muscle and Strength website. There's no benefit to consuming excess protein — excess calories from protein powder can be stored as fat, the same as excess calories from any other source.
Protein & Fat Burning:
In a study on middle-aged women, subjects who consumed a whey supplement containing 30 grams of protein after resistance exercise had lower levels of fat oxidation compared to exercisers who drank a placebo. Although calorie-burning wasn't affected, consuming whey protein diminished post-exercise fat-burning. The researchers concluded that it might benefit middle-aged women to delay ingesting protein after resistance exercise to maximize fat-burning. Although further research is needed, those who are using protein powder for weight-management or striving to reduce body fat before competition might improve their results by eating a piece of fruit after exercise for recovery and waiting an hour to consume protein.
FROM TRIMMED&TONED
Homemade Chocolate Peanut Butter Spread
Make your toast or waffles a little more taste-worthy with this one.
1 Tablespoon Peanut Butter
1 Scoop Chocolate Protein Powder
1 Tablespoon Cocoa Powder
1-2 Packets Truvia Sweetener
2-3 Tablespoons Water
Melt your peanut butter in the microwave for about 45 seconds to make it soft and easy to spread.
Add in your protein powder, cocoa powder, and sweetener. 
Slowly add your water while stirring. Add or subtract the water as needed, you just need it into a paste form to spread.
YAY. Tasty, healthy, protein packed spread! Enough to cover 2 pieces of toast.
No Bake Protein Bars
1 Cup Uncooked Oatmeal
6 scoops Chocolate Protein Powder
5 Tablespoons All Natural Peanut Butter
1 Teaspoon Vanilla
1/2 Cup Water
Optional nuts, truvia sweetener, cocoa powder, cranberries, raisins, chocolate chips, etc.
Spray an 8x8 pan with nonstick-cooking spray. Combine your oatmeal and protein powder in a bowl. Mix well. Add in your peanut butter and vanilla and mix. It will look like a huge mess. Very dry and clumpy.
Add in your water slowly while stirring, you don't want it to soupy/watery. You might need more depending on your protein powder. It should now be a very thick dough consistency.
Add in an additional dried fruits, nuts, etc and stir well.
Put batter into your pan and while using a spatula sprayed with non-stick spray, pat down the mixture until it is even and flat at the bottom of the pan
Freeze for one hour or refrigerate for a couple hours. Cut into 8's. Enjoy. Keep refrigerated!
Very yummy. :)
8 servings. 188 calories, 19.8g protein each.
Turkey Meatloaf Muffins
As seen on Jamie Eason's LiveFit diet plan on bodybuilding.com
These are delicious little protein packed treats you can eat as in between meals. Only 80 calories for 2!!!
2 lbs ground turkey or chicken (I used ground chicken breast)
3 egg whites (I used 9 tablespoons of Egg Whites from a carton)
1 cup quick cooking oats
1/2 teaspoon cumin
1/2 teaspoon dried thyme
2 teaspoons dry yellow mustard
2 teaspoons black pepper
2 teaspoons chipotle pepper spice
1 teaspoon salt
2 tablespoons garlic powder (2 cloves minced)
1 small onion (finely chopped)
2 celery stalks (finely chopped)
Preheat oven to 375 degrees. Spray muffin pan with canola or olive oil.
Mix all your ingredients together in one large bowl.
Roll the mixture into balls and place in muffin pan. Muffins should be about the size of a racquetball.
Bake for 40 minutes.
I put mustard on mine and yum yum! :)
Mid morning snack. Protein chocolate dipped strawberries. Recipe is on my page under 'Recipes'. Mm, mmm. I love chocolate as meals.
Healthy Protein Peanut Butter Cups
You read that  right… and boy was it amazing and was the size of like 3 Reese's Cups for many less calories. Makes one large cup. From Lean Body Lifestyle
1 Scoop Chocolate Protein Powder
1/8 cup Water
1 Packet Truvia
1 tablespoon Unsweetened Baking Cocoa
1 tablespoon Natural Peanut Butter
Mix your protein powder, water, Truvia, and unsweetened baking cocoa in a bowl. Mixture will be very thick, you don't want it watery or it wont freeze!
Spoon half the mix into a cupcake tin. I suggested using the aluminum ones and doubling/tripling them for reinforcement or they will flatten out and you will have a mess all over(happened to me that's why I don't have a personal photo to show for them, I just licked it right off the flat wrapper/from off the plate, LOL). Freeze your cup for 20 minutes.
Take it out of the freezer and smear a tablespoon of peanut butter onto the chocolate. Freeze again for about 20 minutes.
Take it out of the freezer and scoop the remaining chocolate on top of the peanut butter. Freeze until firm. Mine took over 20 minutes. Then eat!
It was so yummy you guys I swear.
Here's a pic of the video I got it from since I didn't take one myself.
Calories 227(depending on the brand of protein you use…) and protein 27g.